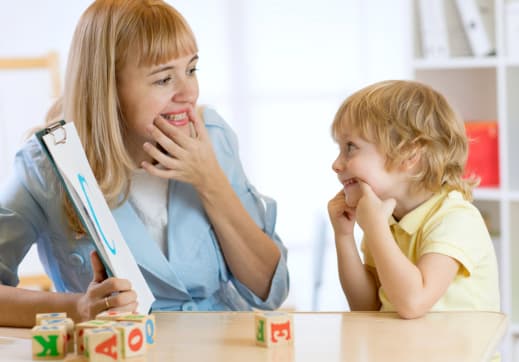 A mounting body of research suggests that the number of words that kids hear as infants and toddlers play a huge influence on their language development as well as early education. The more exposed babies are to adults speaking, the better they understand speech and learn words. In addition, it increases children's ability to quickly and effectively identify words as they grow older. Evidently, a rich language environment helps your youngsters develop their vocabulary and language abilities rapidly.
As a quality children's Montessori center in Anaheim, California, we, therefore, encourage you to make use of everyday opportunities so as to generate a meaningful learning environment for your children. For example, activities like sharing meals as a family or showering your kids are a good time to help them pick up communication skills. Or you could also try to find out the things that interest your young ones and use these to encourage them to learn how to speak. The idea here is for parents to let their young kids develop their speech in a natural manner and without pressure. To do otherwise might cause your children to clam up instead.
But, how do you encourage your kids to pick up speech more effectively? Here's a list of suggestions from Anaheim Hills Montessori School:
Repeat the sounds that your infants and toddlers make when they start to babble. Doing so encourages them to babble some more and keep a "fun conversation" with you.
Look out for non-verbal signs that signify your youngsters' curiosity about their environment. Use these instances to engage their interest in verbal communication.
Avoid long, complex sentences. Instead, use short, simple ones, giving particular emphasis on specific words.
Get them to repeat words after you before giving them a particular item of interest.
Interact and play with your kids, whether at home, inside the four walls of a Montessori school in California, or outdoors.